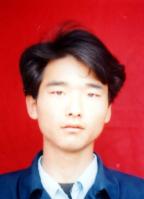 My name is Wang Fudong. I'm a thirty-year-old male. I am originally from the No. 388 Village, Chagan Town, Da'an City, Jilin Province. I now live in Zhongjia Village, Ershili Town, Jinzhou District, Dalian City, Liaoning Province. Because I spoke up for Falun Gong, the police tortured me and injured me, causing me to become disabled.
When I was nineteen years old I developed necrosis of both of my thighbones. My body was stiff and I could not take care of myself. It was difficult for me to walk. I often tripped and fell. Then I couldn't get up from the ground until a passerby came to my aid and helped me get up. I started practicing Falun Gong in 1998 and my health improved gradually. The pain I suffered disappeared, without my having to take any medication! This saved my family a lot of medical expenses.
In 2002, I wrote a letter to Wang Kai, the chief of the Chagan Township Police Station, telling him that his persecution of Falun Gong practitioners was illegal. Wang Kai thought he would get a promotion for catching a Falun Gong practitioner, so he used my letter as evidence to persecute me. Wang Kai, policeman Zhao from the Linjiang Police Station, and policemen from the Ershili Town Police Station came to my home and arrested me without any legal arrest warrant. They ransacked my home and confiscated my Falun Gong books.
When the police tried to make me sit in the car, I resisted, so they used force to cram me into the trunk! A few days earlier, I injured my leg on a small shovel, and it was still bleeding and oozing pus. My mother showed them my wounds, trying to arouse their conscience, but they were not concerned at all. They took me all the way from Dalian City, Liaoning Province to Da'an City, Jilin Province. Eventually we got on the train to Da'an. I lost consciousness, so Wang Kai shoved me under the seat.
I was illegally incarcerated at Da'an City's Prison in Jilin Province for over two months. The prison's dilapidated conditions made my wounded leg worse and it started to develop gangrene. After two months there, my health seriously deteriorated. Both of my feet became swollen, causing me great pain when walking. The prison authorities did not want to take any responsibility. They sentenced me to three years of forced labor, in custody outside the labor camp, so they wouldn't be held responsible for my condition. Somebody else signed the verdict with the charge of "disturbing the social order." How could an injured person like me, who had difficulty walking, do something to "disturb the social order?"
The police left me at a relative's home. I stayed there for a few days before I attempted to return home to Dalian City. When I was struggling to walk at the Da'an Railway Station, a woman asked me what had happened. I told her about my experiences. Two plainclothes policemen overheard my conversation and arrested me. They took me to the Railway Station police office and later sent me to the Da'an North Police Station. My feet were aching very badly by that time and I could hardly walk. But the police weren't concerned at all, because for every Falun Gong practitioner they arrested, they could get a bonus of 1,000 Yuan. In the interrogation record at the Da'an North Police Station I found words describing me as a "criminal." I tore the record up, because I am not a criminal nor am I guilty of any crime. In retaliation, the police beat me severely, using a wet towel to cause internal injuries without leaving any marks or bruises on my body. They also called the police from Linjiang Police Station and illegally imprisoned me again at Da'an Prison for two weeks. My health became even worse. The prison officials saw how my physical condition was deteriorating. They did not want to take any responsibility, so they allowed me to go home.
I am a law-abiding Chinese citizen. I spoke the truth about Falun Gong, exercising my constitutional rights. I was unreasonably persecuted, and because of the severe abuse, I became disabled. I am condemning the Chinese government: they persecuted practitioners with savage mental and physical cruelty, and I am holding them responsible for the pain and suffering my family has had to endure because of the treatment I have received. I ask kind people around the world to join with me to help stop this persecution.
(Mr. Wang Fudong is unable to write. This article was narrated by him and written by others on his behalf.)
type=Case,Right to Health; type=Prison, Da'an City's Prison; location=Jilin, Da'an